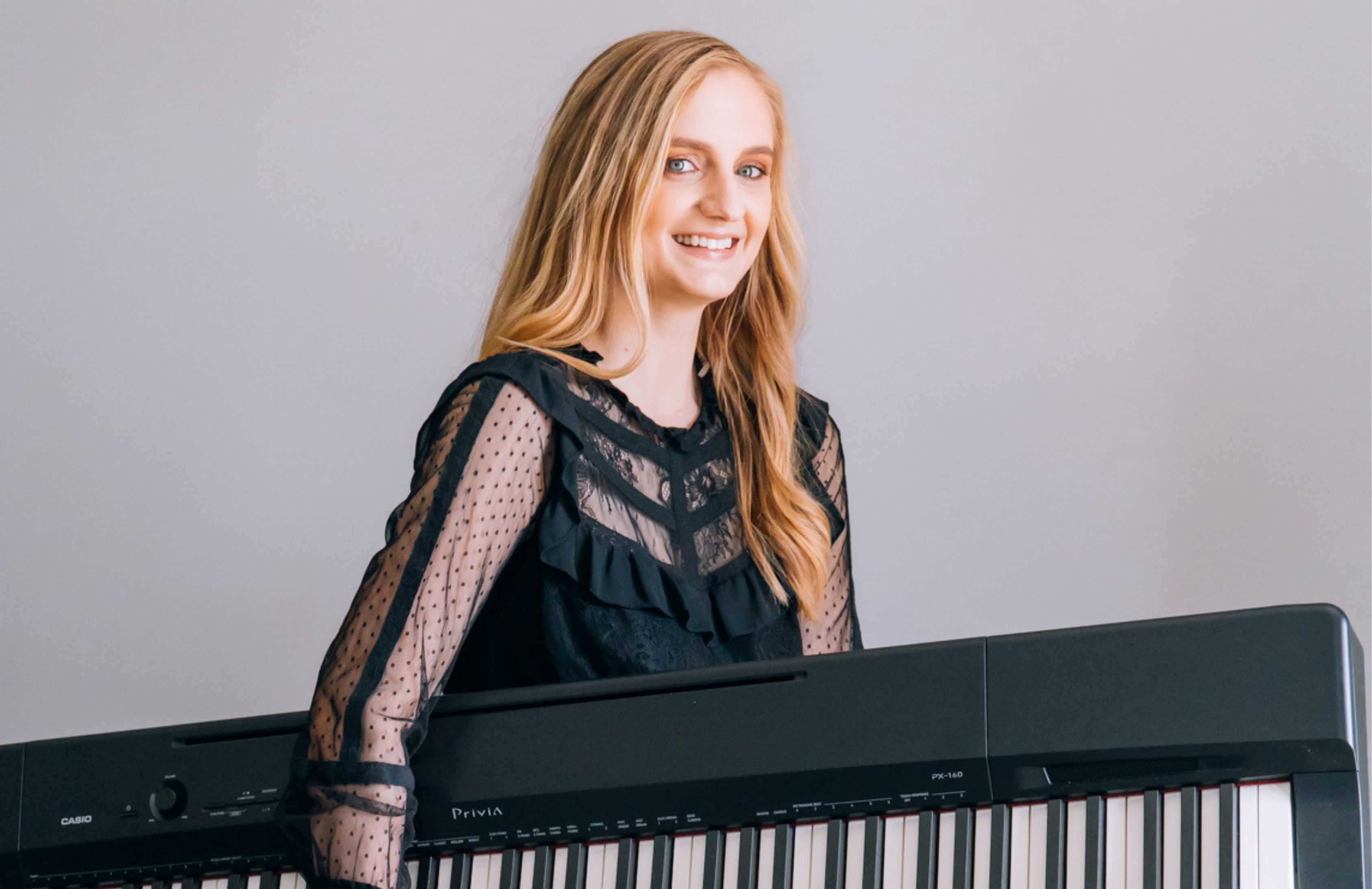 HEY, I'M KAITLYN DAVIDSON, AND I'M SO GLAD YOU STOPPED BY! 
I help beginner pianists like you go from 0 to playing their favorite songs in months, not years.
I know how frustrating it can be to get stuck playing the same old children's songs and feeling like you're not making any progress. But don't worry, I'm here to change all that!
With my unique teaching methods and strategies, you'll be saying goodbye to those boring songs and hello to playing hits from The Beatles, Billy Joel, Adele, John Legend, and many more. And the best part? It won't take you years to get there!
I've seen many clients go from feeling frustrated and almost giving up to being over the moon and playing their favorite songs in no time, just by shifting the way they approach learning the piano. And I'm here to help you make that same shift.
I'm a professional pianist, piano teacher, and entrepreneur with over a decade of experience teaching music to thousands of students.
On my YouTube channel, I teach beginner pianists how to learn the piano in the simplest and most productive ways possible, and how to play the popular songs they love in less time.
Beyond my YouTube channel, I offer an incredible, game-changing course called The Piano Accelerator. In this course, I help beginner piano learners go from zero skills/struggling to learn to being able to play their favorite songs in less time using my strategic methods.
I typically work with clients who are struggling with learning the piano and teach them the topics they actually need to know to learn their favorite songs. I skip the unnecessary children's music and overwhelming music theory and teach topics in a way that is quick to understand to help you get results faster.
MY MISSION IS TO HELP YOU LOVE PLAYING THE PIANO AND CREATE A PERSONAL OUTLET FOR YOURSELF.
All of my content is geared towards this goal because I know the struggle of learning the piano and how difficult it can be. Music and the piano are beautiful parts of life that more people should be able to enjoy without all the confusion and headaches!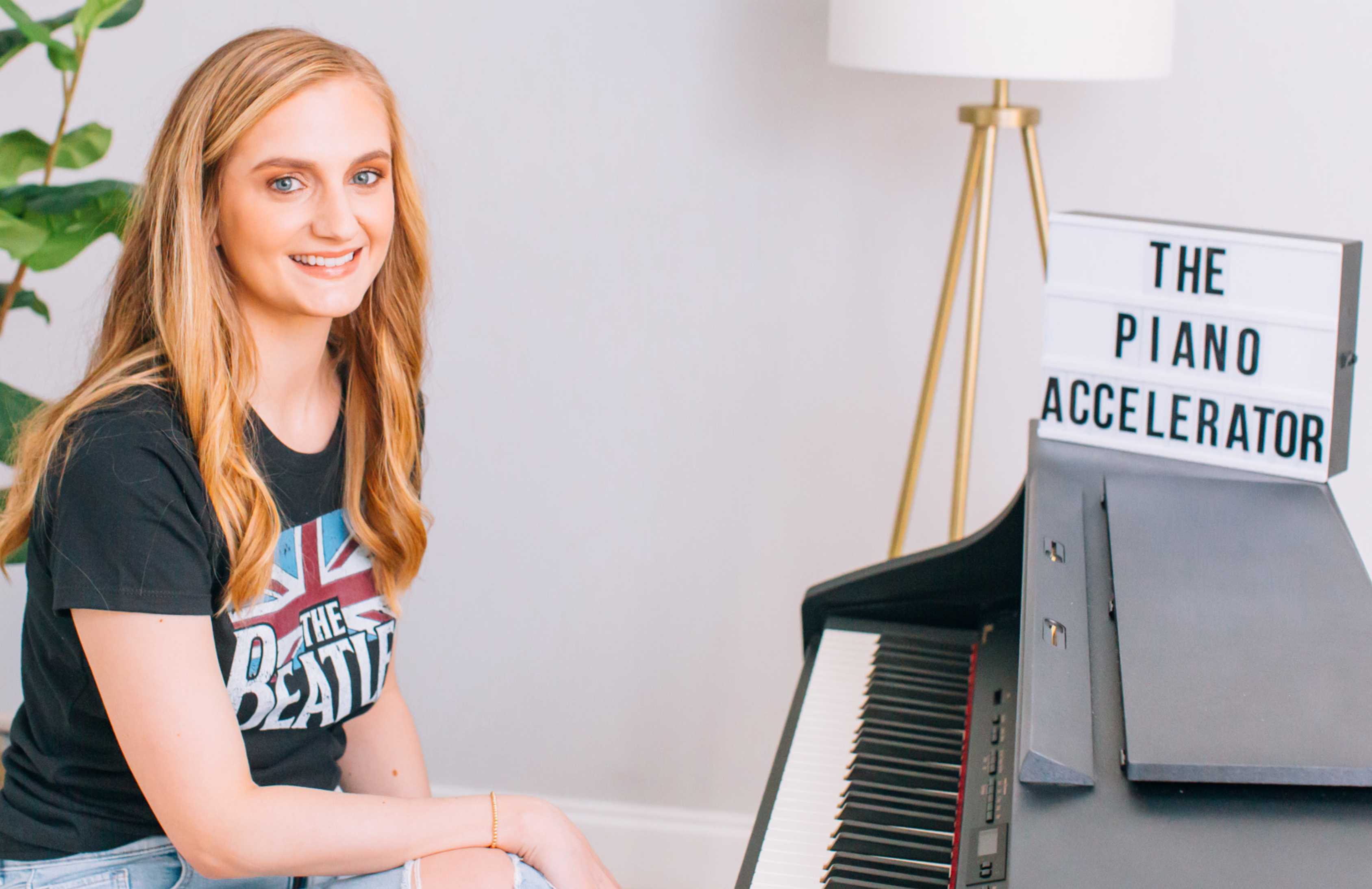 A little about me, I've been playing the piano for over 25 years, which was inspired by my grandmother and great-grandmother who also played the piano. I took traditional piano lessons from age 8 until my senior year of high school and entered college on the Johns Hopkins Piano Scholarship. I got my bachelor's degree in Music Education from the University of Georgia.
After graduating college, I became a public school music teacher for three years. While I learned a lot about teaching during this time, I didn't enjoy being told exactly what and how to teach music. That's why I started my own side hustle piano lessons business after work and loved the freedom to teach my own style and methods.
Fast forward to my third year in public schools, I had a waitlist of students in my piano lessons side hustle. I then resigned from my full-time public school gig and plunged into the world of entrepreneurship with my piano lessons. It didn't take long before my solo business turned into a music school. Today, we have 15+ employees, hundreds of students, lessons for many instruments, rock bands, and more.
My music school has always been popular among adults.  Most of them are either total beginners or they had some basic piano lessons in their childhood and are now returning to fulfill their musical aspirations.
With all these adult beginners on my hands, I noticed a pattern: they all struggled with traditional lessons and did not take well to traditional piano methods.  As you can imagine, using method books that begin with "Mary Had a Little Lamb" didn't exactly inspire them.  But now my problem as a piano teacher was that there were NO methods out there that taught them in a way that would inspire them or even help them productively learn.
So, I came up with an innovative solution called The Piano Accelerator. It's a program that doesn't involve weekly lessons or traditional methods, and it has proven to be highly effective. With The Piano Accelerator, many of our students have progressed from being total beginners to playing their favorite songs in just a matter of months, and some even in the first module itself!
So, if you're an aspiring pianist and you've been dreaming to learn, you are in the right place.
I invite you to check out my FREE training that shows you exactly how to go from 0 to playing your favorite songs in months, not years. It even walks through what you can start doing right now to begin learning a song you love. 
So what are you waiting for?  Click to join my free training below and get on your way!
Want to keep in touch?
You can reach out to me at [email protected].
Follow me on Social Media:

And be sure to subscribe to my YouTube channel for new videos every Tuesday!
But the best place to start is to head over here to watch my FREE Training on how to go from 0 to playing your favorite songs on the piano in months, not years: